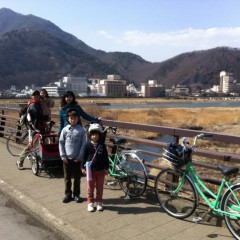 私はこの戸倉上山田温泉で新しい企画を考えています。自転車で温泉街を巡るツアー。
ガイド付き「ツール・ド・戸倉上山田温泉」
って感じ。
毎週土曜日の午前十時半から約1時間半。
自転車は旅館組合のレンタサイクルを利用する。
コースはこんな様に考えている:
カラコロ足湯スタート
上山田温泉中央公園
にしざわ貯金箱館
南部公園~山の手通り
飲泉所
西公園・薬師堂
佐良志奈神社
大正橋・小石の湯伝説
酒造コレクション
水上布奈山神社
白鳥園・岡本太郎のオブジェ
万葉超音波温泉の足湯
万葉橋
千曲川沿いの噴水公園
戸倉温泉本通り
銀座通り 饅頭タイム
上山田温泉本通り~カラコロ足湯 終わり
現在は千曲市観光協会と打ち合わせしているけど、この企画は観光商品にしたいと思っています。料金は一人1000円で、自転車のレンタル代、保険、饅頭、ガイド代が入っています。
先日はコースを友人のKenさんご家族と通りましたが、なかなか喜ばれました。
まだ計画中ですが、皆さんはどう思いますか?何かアドバイスがあれば、是非に教えてください。
I've been scheming again. I want to put together a bicycle tour of our onsen town, Togura-Kamiyamada. Call it a Guided Tour de Togami.
I'm thinking of running the tour every Saturday morning from 10:30am, with the full ride taking approximately an hour and a half. The course would be something like this:
Kara-Koro footbath (start)
Kamiyamada's Chuo Park
Nishizawa Piggy Bank Museum
Nanbu Park and Joyama Road
Onsen Drinking Spot
West Park and the Yakushido Shrine
Venerable Sarashina Shrine
Taisho Bridge and it's 'Koishi-no-yu' legend
Shuzo Collection sake brewery
Historical Mizukami Funayama Shrine
Hakuchoen and the Taro Okamoto sculpture
Manyo Onsen footbath
Manyo Bridge back over the Chikuma River
Riverside Fountain Park
Togura Onsen's main street
Ginza Dori with a Manju pastry stop
Kamiyamada Onsen's main street back to Kara-Koro footbath.
Price would be 1000 yen per person, including bicycle rental, insurance, manju pastry and guide.
I am currently in negotiations with the Chikuma City Tourism Association to make this an official program.
What do you think? If you have any suggestions, please let me know!