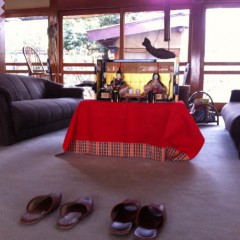 ハッピーガールズディー!
このひな祭りの日から亀清旅館のロビーに雛人形がお客様をお迎えします。
地域によっては雛人形を3月3日まで飾るようですが、冬が長く春が遅れる信州では旧暦のカレンダーで3月3日から一か月間で飾ります。
世界中の娘さん達が自信を持って強くて優しいプリンセスになる様にお祈りしております。
Happy Girls Day from Kamesei Ryokan!
March 3rd is Girls Day in Japan, and families across the country celebrate by displaying Hina Dolls of a princess and prince and their entourage.
Kamesei Ryokan's Hina Dolls are on display in our lobby to greet guests as they arrive.
We wish that all young gir...
もっと読む