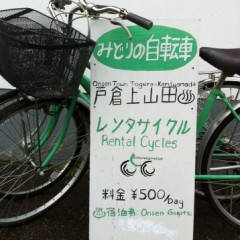 千曲サイクリングクラブと戸倉上山田温泉旅館組合の連携で、駅で捨てられた自転車をレスキューして、レンタサイクルで提供しております。我が亀清旅館を込めて、5ヵ所で借りれます。
先日はサイクリングクラブの会長が来てくれて、ブレーキとかタイヤ―を点検しました。この秋のサイクリングシーズンに向かって、整備しました。
千曲川沿いにサイクリング道路もあるし、周辺のサイクリングマップもあるし、戸倉上山田温泉は本当に自転車のメッカです。
The Chikuma Cycling Club and the Togura-Kamiyamada Ryokan Association have teamed up to offer rental bicycles. The Cycling Club rescued bikes that had been discarded at the local train stations, and we make them available for use to guests who stay at our inns. The bikes are available here at Kamesei Ryokan as well as 4 other inns in town.
Recently the leader of the cycling club came and inspected our bicycles. We checked the brakes and tires and everything, and got them ready for the Fall cycling season.
Our onsen town, Togura-Kamiyamada, is a mecca for bicycling, with a cycling path along the Chikuma River and a cycling map with 10 area courses. This fall, come and enjoy bicycling in Togura-Kamiyamada!