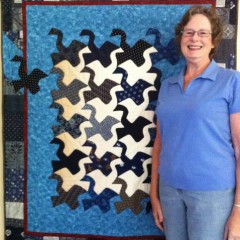 Since coming to Kamesei Ryokan 6-1/2 years ago, I've put my hands to work making everything from a sign for the entrance to an outdoor onsen bath. There's something in me that makes me want to create things with my own hands.
I thank my Mom for that influence. She is an avid quilt maker. In fact, we have several of her quilt wall hangings on display here at Kamesei Ryokan. Mom uses a lot of Japanese fabrics in her quilts, so they are well-suited for our Japanese inn.
While I was back in Seattle for my friend's wedding, I took this picture of her posing next to her latest quilt. So if/ when you see one of her quilts hanging Kamesei's walls, you'll know who made it. And you'll know who inspired all of my creative works here at the inn.

もっと読む