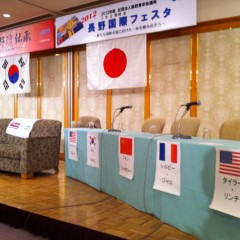 先日は長野青年会議所に頼まれて、パネルディスカッションのパネリストになりました。
テーマは「ここが変だよ!日本人in長野」で、お相撲で有名な小錦さんもパネリスト、懇親会のアトラクションがプロダンスチーム「遠藤時代」。
正直って、小錦さんに会いたいと思いながらそのテーマは苦手(アメリカは変な所がなければ良いかもしれないけど、その以前の問題…)だし、ダンスパフォーマンスどこまでプロかとの不安がありました。しかし、以前は松本と千曲市の青年会議所で講演を頼まれた事があるし、長野JCのOBの土屋社長とNInJAプロジェクトで仲良いし、参加させて頂きました。
私の方からの「変」は何で文化財をもっと大事にしないかと。特に建築物。五輪前までの長野駅舎は善光寺に似ていて、愛された建物でした。新幹線の工事でそれが壊されて、今のどこの町の駅舎か分からない作り。勿体ない!千曲市の稲荷山地区の土蔵が年々に少なくなっている。以前は市長に陳情した事がある:民間だけじゃ整備が出来ない;補助金を出しなさいと。
他のパネリストのお蔭で長野だけの問題じゃないとの事が分かりました。中国からの留学生によると北京の「胡同」が同じように壊されている。なるほど。
長野青年会議所の皆様、有難うございました!
The Nagano JC's invited me to be a panelist at their International Night. The discussion's theme was to be "What's weird about Japan". Konishiki, the sumo star from Hawaii, was another panelist, and the banquet's main entertainment was to be a pro dance troupe called Endo Jidai.
To be honest, I usually try to not focus on what is weird about Japan, especially as my home, America, has so many weird issues to deal with. And although I'd always wanted to meet Konishiki, I had my doubts about how good the dance performance would be. But I've given speaches in the past for the Matsumoto and Chikuma City JC's and work closely with Tsuchiya-san (past president of the Nagano chapter), so felt obligated to participate.
My deal for the "Weird" discussion was about how historical buildings aren't preserved here. Nagano Station used to have a classic station house patterned after Zenkoji Temple. That was all demolished when the shinkansen bullet train came. Here in Chikuma City, our Inariyama district's earthen-walled storehouses are slowly being torned down. I've petitioned the mayor before to subsidize the preservation effort.
One of the other panelists, an exchange student from China, helped put it into perspective, though. Beijing's famous hutongs are fast being bulldozed into oblivion. So it's not just Japan.
Here's a special thanks to the Nagano JC's!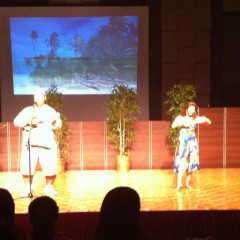 小錦さんと少しお話ししたけど、緊張した!何を話せばいいか、困った。とにかく、お相撲は避けた方が良いそうです。「3歳から歌い続いている;20アルバムを出した」と言う。お相撲がサイドの仕事だったようです。なるほど。
I did get to talk a bit with Konishiki. I was rather nervous though — what to talk about? Apparently not sumo. "I've been singing since 3 years old, and have put out 20 albums." Once again, perspective.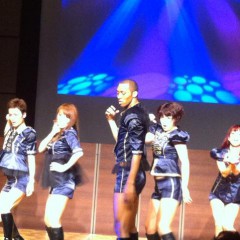 そして、懇親会。沢山の良い出会いも出来たし、心配していたダンスチーム遠藤時代は素晴らしかった。観光、感動!
And the banquet: I got to meet so many fascinating people, and the dance show — Endo Jidai are fascinating!