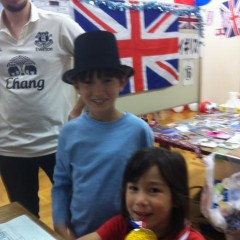 千曲万博が27日に戸倉創造館で行われました。千曲市と県内に住んでいる外国人が自分の国の文化を紹介する為に集まって、地元の子供達や市民が触れ合える場面となった。タイやアフガニスタンのお料理の試食や、国連旗クイズなど、沢山楽しめた。
うちの子供達がこの夏のロンドン五輪を楽しみにしているのでイギリス人とお話が出来て、喜んだ。
千曲万博は年々に大きくなっているので、来年はまた宜しくお願い石ます!
The Chikuma Expo took place on the 27th. People from over 15 countries living here in Chikuma City and Nagano Prefecture gathered to share their home country's culture, especially with the local school kids.
Besides sampling cuisine from Thailand and Afganistan, we juggled with Uncle Sam, made magnets of Australian animals, and played the United Nations flag quiz.
Our kids are looking forward to the London Olympics this summer, and really enjoyed the UK booth.
The Chikuma Expo gets bigger every year. We are looking forward to next year!