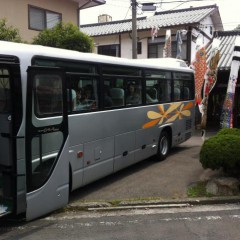 千曲市と清泉女学院(長野市)が連携・交流の場面を作ろうとしています。その中で、学生の旅館でのインターン、特に英語を習っている生徒が海外のお客さんが割と多い亀清旅館でのインターンを調整している。先日は女子学生二十数人が我が亀清旅館を見学しました。
学生に今までの工夫を見せたり、仕事の内容を説明したりしました。最後はお風呂に実際に入って頂きました。
是非、学生のパワーを取組みたいと思っています。この学生の将来は楽しみだね。亀清旅館が応援しています!
Chikuma City is looking to start a program in conjunction with the Seisen Womens College in Nagano City. For example, set up an internship program with the inns here at our onsen town Togura-Kamiyamada. The English students in particular would benefit from a working experience at Kamesei Rokan as we often have English-speaking guests from overseas.
Today, about 2 dozen students came and took a tour of our inn. Some even took a bath.
Hopefully we here at Kamesei can help the students with their educational development!