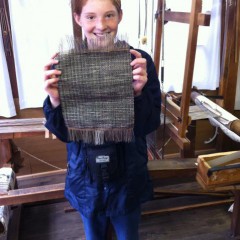 笑顔と100年前の機織り機。
笑顔はオーストラリアからの高校生、Briannaさん。学校の成績が良くて、お祝いでお父さんが日本旅に連れてきました。
100年の機織り機は小岩井紬工房の機械。日本三大紬の一つ、上田紬を作っている数百年の歴史の工房。現在の若手職人との姉妹がその伝統的な技術で昔と同じく着物の着尺や帯はもちろん作っているけど、現代的な商品「携帯ストラップ」や現代な織り(銅の糸!)も実践しています。
体験は2500円(コースター、約30分)から出来ます。私もやったことがあり、とっても大思い出になる。
Briannaさんの笑顔もその証拠。
A smiley face and a 100 year old loom.
The smile belongs to Brianna, a highschool student from Australia. Her dad brought her to Japan as a reward for her good grades.
The loom is in the silk weaving workshop of Koiwai Tsumugi Kobo in nearby Ueda City. The local style of silk weaving ("Ueda Tsumugi") is considered to be one of the top 3 traditions in all of Japan. The current generation of the Koiwai family is continuing the business that dates back several hundred years, using the age-old techniques to make kimono fabric as they always have. But they are are also introducing new products (cell phone straps) and using their weaving techniques for high-tech purposes (weaving copper wire into mats for electrical grounding for a local factory).
At the Koiwai Silk Weaving Workshop, you too can sit at one of the 100 year-old looms and weave your own silk creation. Sessions start at 2,500 yen for a coaster (takes approx. 30 mins.) I myself made a wall hanging for one of our guest rooms. It was a very memorable experience.
One that the smile on Brianna's face can attest to.
小岩井紬工房 Koiwai Silk Weaving Workshop