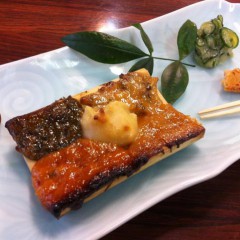 長野県は日本の中で平均年齢が長い方。その理由は何か、色んな調査がある中で可能性としては発酵食品。信州味噌、日本酒・酒粕、漬物など。我々長野県旅館青年部がその3つ(味噌、酒粕、野沢菜などの漬物)の組み合わせのソースを開発しています。長野県の表現で「とっても」とか「本当に」の意味で「まぁーず」とよく言います。この新しいソースはそのまま、「まぁーず」という名前。
亀清旅館のChef武井ももちろん、オリジナルのまぁーず一品を出しています。最近はばら肉の土手焼きです。
まぁーずを最初に出したのは田沢温泉の若旦那、宮原さん。先日の県旅館青年部の会議が宮原さんのますや旅館で行われた。その時に、宮原さんなりのまぁーずの紹介があった。
写真の様に、色んな作り方がある。
右下: スタンダードまぁーず。
右上: 舞茸まぁーず
左上: ゆず胡椒
左下: らぁーず (まぁーず+ラー油)
中信: ホワイトソースまぁーず(洋風)
個人的に、舞茸まぁーずが一番気に入った。
これからのまぁーずの発展は楽しみやな!
Japan has one of the longest life expectancy rate in the world. Within Japan, Nagano's is especially long. There's been a lot of research on this matter, and one conclusion is that perhaps it's because people in Nagano eat a lot of fermented food, like miso, sake and sake lees, and pickled vegetables. The ryokan junior association has taken those 3 and combined them for a new sauce dubbed 'Mahz'.
Our chef here at Kamesei Ryokan of course uses Mahz for one of his dishes (currently Mahz over marbled beef). But the originator of Mahz and the undisputed Mahz master is Miyahara-san, the proprietor of Masuya Ryokan in Tazawa Onsen.
At our recent junior innkeeper association gathering there, Miyahara-san treated us to a sampling of Mahz. As per the picture,
Bottom right — standard Mahz
Top right — Mahz with maitake mushrooms
Top left — Mahz with yuzu (lime) pepper
Bottom left — Rahz (Mahz with Rayu spiced oil)
Center — Mahz with white sauce (a western version)
My favorite was the Maitake Mahz.
It will be fun to see how the Mahz sauce develops from here.