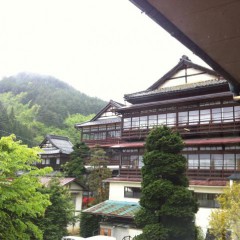 旅館組合の会議のほとんどは割とドライな場所で行われる:観光会館の多目的スペースとかバスセンターの会議室など。
今回の県旅館青年部の会議場所は藤村の部屋でした。
田沢温泉の江戸時代からの3階木造宿「ますや旅館」でした。作家の藤村が滞在して、本を書いたと言う。その滞在したお部屋が今回の会議室となりました。歴史を感じながら。旅館青年部じゃないとなかなか経験できない。
ちなみに、今回の会議の後の講演会でマックアースグループの若社長、一ノ本さんのお話を聞けました。兵庫県を中心で全国でホテルを買ったり(学校団体受け入り日本1)、スキー場(16ヵ所も!)経営したり、凄い結果を出しています。いつも「売り上げを伸ばすのが大事だ」と言われている、社長の経験は逆に「これだけの費用ならこんな売り上げが必要」と、逆計算の発想。彼の勢いに感心しました。
それこそ、旅館青年部じゃないと経験できない貴重なお話しでした。
Most ryokan association meetings take place in boring community centers or meeting rooms. This time, our Nagano Junior Association met in a room used by Toson Shimozaki, a literary master from the Meiji and early Showa eras. The room is in Masuya Ryokan, a 3-story wood inn built in the Meiji era. It was a humbling experience attending a meeting in such a historical place.
After the meeting was a speech by the young president of Mac-Earth Corp. Ichinomoto-san single-handedly built his organization up from a mom&pop inn to a group covering over a dozen hotels and 16 ski resorts. His intensity was amazing. I had always been told to focus on sales figures. His policy is to look at your costs, and target sales high enough to cover those costs, hence his aggressive expansion.
Holding a meeting in a historical, turn of the (last) century room, getting to meet one of the most successful resort operators in Japan — these are some of the benefits of becoming an innkeeper!