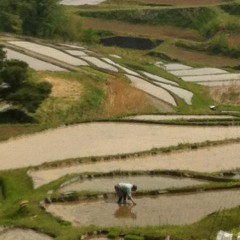 もし私がやる事が何もなく、完全に暇な日があったら、
田植えの作業を見れたら幸せ。
その手作業のリズムに何となく癒される。難百年前、もしかしたら何千前からと同じような田圃、同じような作業。
戸倉上山田温泉から車で10分にある姨捨棚田では、ちょうど田植えの時期になりました。昔の人達は子の棚田を良く作れましたね。そして、いまだに田植えは手作業。
ずっと見たい。
まあ、見るだけじゃ怒られるだろうから、手伝えたらなお良いかもしれない。
If I had a day with absolutely nothing to do, I'd love to spend it simply watching the planting of the rice fields. There's something therapeutic about the rhythm of someone planting the rice seedlings by hand. Done in the same way, in the same types of rice paddies, as has been done generations, eons ago.
The terraced rice fields of Obasute, a 10 minute drive from our onsen town, Togura-Kamiyamada, have been flooded and planting has started. It just amazes me to think of the work that went into building these famous, moon-reflecting rice fields.
I could just sit and watch the planting for hours.
Of course, it probably would be more appropriate to not just watch, but get into the field and help with the planting. I can just imagine the feel of the paddy's mud oozing through my bare toes….