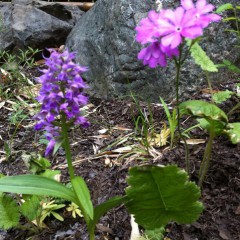 亀清旅館の新しく出来た貸切露天風呂「しなの風呂」の庭はこの初春で次から次へ綺麗な花が咲いてきています。今度は2種類の紫の花。
庭師の岡田さんは庭の所々で目をあそばせる工夫してくれました。珍しいお花から綺麗な模様の石や立派な木、楽しい庭を作ってくれました。
しなの風呂に入りながら、庭の美しさも浴びれます。特に、この春は庭が素晴らしい!
Kamesei Ryokan's new "Shinano-buro" private outdoor bath features a garden built by our master gardener Okada-san. This is the garden's first spring, and we have been enjoying quite a show of one flower bloom after another. Right now these 2 types of purple flowers are blooming right by each other.
Okada-san did a splendid job of making a garden that pleases the eyes wherever you look. Rare alpine plants here, beautifully patterned rocks there, and magnificent trees towering over it all.
While soaking in the onsen bath, it is possible to bathe in the beauty of the garden, as well.
And this spring, the garden is at its finest!