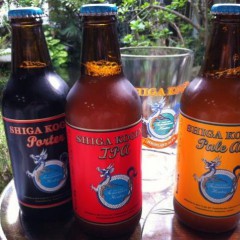 亀清旅館では志賀高原の地ビールが3種類をそろっています。せっかくですから、各一本の飲み比べセットを始まりました。その三種類は:
ペールエール (フルーティー系)
IPA (苦い系)
ポーター (黒ビール)
ロゴ入りのパイントグラスで楽しんで頂けます。
各1本で1680円
地ビールのメッカ、シアトルから来た私にはバドワイザーやアサヒは物足りない。個人的に奥深いビールが好き。長野県に来てうれしかったの1つは沢山の美味しい地ビールがあります。その中で値段と味と瓶である事を調査したら志賀高原ビールに決めました。
今度は亀清旅館にお越しになる時に地ビールの3種類友を飲んでみて、どれが一番美味しいかまたご意見を下さい。(ちなみに、私は4分の1のアイルランド人のお蔭か、黒ければ黒いほどが好き;従ってポーターが一番好き。)
Introducing Kamesei Ryokan's Microbrew Comparison Set. We are proud to offer 3 varieties of beers from nearby brewery Shiga Kogen Beer.
Pale Ale (fruity taste; perfect for microbrew newbies)
IPA (bitter taste, full of hops)
Porter (chocolaty dark beer)
Served in an official Shiga Kogen Beer pint glass.
1 bottle each: 1,680 yen
My hometown, Seattle, is a mecca for microbrews. So for me, the Budweisers and Asahis of the world don't quite do the trick. I prefer my beers with more body. Hence I was pleasantly surprised upon moving to Nagano that there are so many high quality craft beer makers here. After extensive (?) research, I found that Shiga Kogen's beers have the fullest flavor for the best price, and come in bottles.
When you come and stay at Kamesei, how about trying our Microbrew sampler set? And please let me know which variety you like the best. (Personally, being 1-quarter Irish, the darker and sludgier the better. The porter is my favorite.)