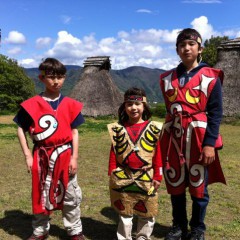 皆様は子供の日はいかがでしたか?子供さん達と遊びましたか?私どもは自転車でこの戸倉上山田温泉から約4.2km離れているさらしなの里古代体験パークまで行って、縄文時代の遊びをしました。
長男はひお越しを体験して、二男と娘は石を削ってペンダントを作りました。縄文人の環境を守る意志のアニメも見たり、その時代から復元した家で遊んだりした。
長男は上山田小学校の6年生の歴史授業で縄文の時代をちょうど習っている。この同じ千曲市にある森将軍塚が全国の教科書に出てくるらしい。それなのに、上山田小学校は授業で見学しに行かない。私が先生に怒っときました。学校に頼れない事、良く分かりました。次回は子供達を連れて、将軍塚見学!
Did everyone enjoy Childrens Day (May 5th)? I took our kids for a bicycle ride to the Sarashina no Sato Ancient Experience Park, a 4.2km ride from our onsen town, Togura-Kamiyamada.
The park is set up to provide a glimpse of what life was like in prehistoric Japan, the Jomon era. Besides a recreated Jomon village, there is a sort of historical museum. Not only are there displays and an educational video on Jomon lifestyle, but there are a series of hands-on activities to experience. Our oldest son tried making fire with sticks of wood, while our #2 son and daughter carved a soapstone into a pendant.
Chikuma City is also fortunate to have a 1600 year old ancient tomb, the Mori Shogun Tumulus. It appears in all 6th graders textbooks in Japan. I'll have to take our kids for another bike ride to go there next time.
さらしなの里古代体験パーク Sarashina no Sato Ancient Experience Park