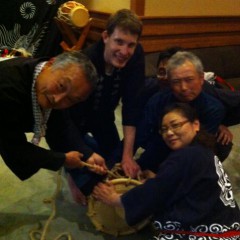 このごろ、上山田神楽保存会が忙しい。この3週間で獅子舞は:
上山田の三本木公園開園式
地元の智識寺の春祭り
国際結婚の披露宴@上山田ホテル
上田市の西光寺の八十八夜儀式
もう一つの結婚披露宴@上田市のシティーホテル
東北支援のチャリティーイベント@上山田温泉
そして、5月6日は何と、善光寺さんで獅子舞の予定。
善光寺さんで獅子舞とは、上山田神楽保存会ぐらいですよ。戸倉上山田温泉の旅館青年部主催の「牛に引かれて善光寺詣り」の300人が30キロを歩くイベントに合わせて、お神楽がお祝いする。(当日は私が旅館青年部長なので獅子笛じゃなくて、イベント参加者と一緒に歩いています。)
これだけ出番が多くて、太鼓が段々と緩んできた。太鼓締めが必要となってきた。その様子の写真です。太鼓さん、ご苦労様!
Kamiyamada's Kagura shi-shi lion dance troupe has had a busy few weeks. Here are just some of our recent performances:
Kamiyamada's Sanbongi Park grand opening
Our local temple Chishiki-ji's spring festival
Wedding reception at Kamiyamada Hotel
88th Night ceremony at Ueda's Saikou-ji temple
Another wedding reception at a city hotel in Ueda.
Charity Event for Tohoku at Togura-Kamiyamada Onsen.
And, on May 6th, at the venerable Zenkoji Temple in Nagano City. This is in conjunction with the annual "Pulled by an Ox to Zenkoji" walk from Togura Kamiyamada Onsen. The ryokan junior association puts on the event of 300 people walking 30km to Zenkoji Temple. (As I am the junior association leader, I'll be walking with the participants instead of playing the flute.)
The Kamiyamada Kagura troupe is pretty much the only one allowed to perform at Zenkoji — such an honor!
Since our group has been so active lately, the poor taiko drums have gotten loose. We did a 'taiko-jime' (tightening of the drums) to bring the sound back. Keep up the good work, little drums!