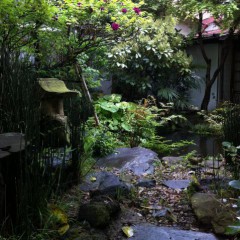 亀清旅館の中庭のボタンが咲きだしました。この写真をFBに載せたら、「庭ポルノだ」というコメントを頂きました。確かに、濃い紫色の牡丹の花と雨の後の飛び石をこうやって見ると、セクシーですね。
私どもが亀清のそれぞれの庭を毎日見ていますが、飽きません。時期によって、天気によって、庭の顔が変わります。
お庭、お湯、お料理、私どものおもてなし。これが亀清旅館でございます。
The peony in Kamesei Ryokan's naka-niwa central garden just started to blossom. I posted this picture on Facebook and one of my buddies commented "Garden-porn". When looking at the deep purple of the peonies, and the after-the-rain wet look of the stepping stones, I can see how the garden could be called sexy.
We here at Kamesei never get tired of looking at the various gardens. They always show a different face with the changes in the season as well as the weather.
Gardens, Onsen baths, our chef's meals, our friendly service; These are the things that make Kamesei Ryokan what we are.