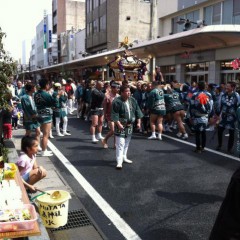 戸倉上山田温泉の隣の隣の上田市は真田一族の歴史についての誇りが強い; 毎年は上田城中心で真田祭りを開催する。
今年は子供達を連れて、初めて見た。中心街が歩行者天国となっていて、民謡連の踊りやお神輿でにぎやかだった。13:00からお城で江戸時代の鉄砲撃ちが行われたようだが、残念ながら間に合わなかった。また来年!
Togura-Kamiyamada Onsen's next-next-door neighbor, Ueda City, is proud of its samurai history. In honor of its hometown Sanada Clan, the city puts on a Sanada Festival every year, based around the historical Ueda Castle.
This year I took our kids and went to the festival for the first time...
もっと読む