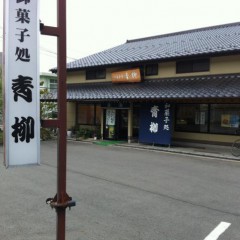 この戸倉上山田温泉の戸倉徳間地区に2つな専門店があります:千曲農産加工と御菓子司青柳。両方に初めて寄ってみましたので、その写真を提供します。
*手造り和菓子専門店「青柳」。
地元の杏や胡桃を使ったスィーツを一つ一つ手で造っています。代表的なのは「さんちょ」だそうです。当社のHPによると、高級和三盆糖と山中(さんちょ)で採れる千曲市産胡桃や山芋を原料とした、口溶けの良い創作和菓子だそうです。
第二十五回全国菓子大博覧会で茶道家元賞を受賞も。
最近はもう一品が話題となってきた:杏の柏餅。
亀清旅館での海外からのお客様の中で、なぜか特にシンガポールのお客様は和菓子に興味を持つ方が多い。これからは青柳さんを紹介します。
*千曲農産加工
元々は地元の農家さん達の育ったそば実をそば粉にする加工屋さんだったそうです。現在はお土産用の信州そば、生蕎麦、生うどん、味噌、醤油等の生産がメインです。地元のお土産屋さんや売店で販売されていますし、通販などで直接買う事も可能です。
Near our onsen town Togura-Kamiyamada in Togura's Tokuma district are 2 specialty shops that I just recently first visited:
Japanese Sweets Aoyagi
Tea sweets featuring locally grown apricots, walnuts, etc., each and every piece made by hand by a professional patisserie. Their most famous item is called "Sancho" — little drops of walnut and 'yamaimo' yam that melt in your mouth. Their new Anzu Kashiwa Mochi (real apricot fruit in mochi rice, wrapped in kashiwa leaves) are gaining media attention lately.
Of our guests here at Kamesei Ryokan that come from overseas, for some reason quite a few ladies from Singapore have expressed interest in Japanese sweets. Now I know a new shop I can introduce.
*Chikuma Nousan
In the past, many local people grew their own soba (buckwheat). They would take it to Chikuma Nousan to be processed into flour to be used in soba noodles. Nowadays, the focus is on producing their own line of both dried and fresh soba and udon noodles as well soy sauce and miso. Their products can be found in most local souvenir shops as well as through catalog ordering.