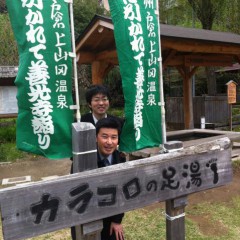 今年はまた戸倉上山田温泉から善光寺までの30kmのウォーキングイベントが開催されます。5月6日(日)に行い、約300人が参加する予定です。
私達戸倉上山田旅館青年部の主催です。先日は笠作り作業、今日はのぼりば他の設置。
ご一緒に歩きませんか?
This year's 'Pulled by an Ox to Zenkoji' walk will take place on Sunday 06-May. Approx. 300 people will walk the 30km from our onsen town, Togura-Kamiyamada to Zenkoji Temple in Nagano City in honor of the 'Pulled by an Ox' legend.
The event is put on by us, the Togura Kamiyamada Ryokan Junior Association members. Last week we worked on assembling the 'kasa' straw hats and today we put up the flags for the event.
Won't you come and walk with us?