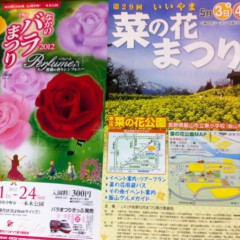 飯山市と中野市から最新の花情報が来ました。
2012飯山市の菜の花まつり
5月3~5日
菜の花迷路、音楽祭、お茶会、
飯山駅からのシャットルバス
車で戸倉上山田温泉から約1時間
(去年は若女将と若若女将と三人で菜の花を見に行きました。千曲川や斑尾さんの背景で真っ黄色の菜の花は美しい絵になります。)
2012中野バラまつり
6月1~24日
バラの講演、オリジナル香水創り、
中野駅からシャットルバス (長電と入園料セットも)
車で戸倉上山田温泉から約50分。
Two cities in northern Nagano sent their most recent brochures on their flower festivals to us: Iiyama City's Nanohana Festival and Nakano City's Rose Festival.
Iiyama Nanohana Festival 2012
May 3rd – 5th
Bright yellow nanohana (rapeseed) flowers with the blue Chikuma River and the snow-covered Madarao Mountain in the distance.
Enjoy a nanohana maze, live music performances, tea ceremonies and more.
Shuttle bus service from Iiyama Station.
Approx. 1 hour from Togura-Kamiyamada by car.
(Last year, I went on a date to see the flowers with my wife and daughter. The color contrasts made for a beautiful picture.)
2012 Nakano Rose Festival
June 1st – 24th.
Special guest speakers by a rose gardener and a rose sommelier. Perfume making, too.
Free shuttle busses from Nakano Station. Special train and park entrance packages available. Approx. 50 minutes by car from Togura-Kamiyamada Onsen.