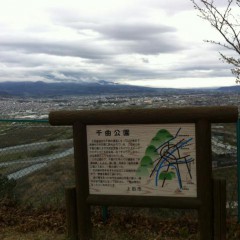 上田市の半過岩鼻の天辺にほぼ360°のパノラマ展望台となっている千曲公園があります。先日は公園のちょっと下にあるそばや日賀志に行ったついでに久しぶりに寄りました。塩田平、上田盆地、逆側は戸倉上山田温泉まで見える。
千曲川の反対側に塩尻岩鼻がある。伝説によるともともとこの二つが繋いでいて、上田盆地は湖になっていたそうです。逃げようとした鼠が穴を掘ったら、水が流れて千曲川が生まれたと言う。
本当ですか?
まあ、確実に言えるのは千曲公園からの眺めが最高だとの事。暗くなってからの夜景も最高です。
実は、ここが私と若女将、磨利ちゃんの昔のデートスポットです。ロマンチックでしょう?
今行けばちょうどいいタイミングになる。講演の桜が満開です。夜はライトアップしているし。
なおロマンチックだな。
On top of Ueda City's massive rocky outcrop called Hanga is Chikuma Park. The view from the park is practically a 360-degree panorama view of the Ueda and Shioda Plains on one side, and down the Chikuma River valley to our onsen town, Togura-Kamiyamada on the other.
Across the Chikuma River is another rocky outcropping called Shiojiri. Legend has it that originally the two were connected, and that the Ueda Plain was one big lake. But a rat tried to get away and dug a tunnel to get out. Water rushed through and created an opening and eventually the Chikuma River was born.
Really?
What is for certain is that the view from Chikuma Park is spectacular. And after dark, the night view is also amazing.
Actually, way back when, this used to be Mari and my date spot. Nice and romantic, eh?
If you go to Chikuma Park, now is perfect timing. The cherry trees on top are in full bloom. And they are lit up at night.
Even more romantic!