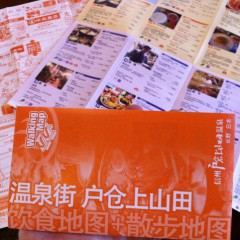 戸倉上山田温泉の散歩地図・グルメガイドの中国版が出来ました。
我が亀清旅館はJNTO登録ビジット・ジャパン案内所旅として2年前ぐらいに戸倉上山田温泉の散歩地図・グルメガイド英語版を作りました。私が亀清の英語圏のお客様の喜んだお店など23軒、レストラン20軒に回って、説明して、説得して、お金の協力を頂いて、作りました。(皆がお金を提供してくれたって、海外のお客様の受入れを積極的に考えているという事で、感心しました!)
そのマップを元にして、今度は千曲市の補助金で中国版(簡体字)が出来ました。ホテル園山荘の中国人スタッフの翻訳のお蔭で、そして千曲市の補助金を使って、2000部を印刷しました。
正直って、中国人の観光客はそんなに多くはない現状です。しかし、このマップを使って、長野県の観光協会などを通じて中国人のお客様にPRしたいと思っております。去年は私が県旅館青年部と北京での商談会に行きましたので、その時に合った旅行会社にも送ります。
今回の中国語マップの作成に当たって、千曲市観光協会に英語も中国語も両方を.pdfで観光協会のHPに載せて頂きましたので、そちらにもご覧になって頂けます。
戸倉上山田温泉の海外での存在は更にUp!
Onsen Town Togura-Kamiyamada has a new Walking Map & Gourmet Guide in Chinese.
Our inn, Kamesei Ryokan, is a JNTO-registered Visit Japan Information Center. As part of that responsibility, 2 years ago I created the "Onsen Town Togura-Kamiyamada Walking Map & Gourmet Guide" in English. I personally went around to 23 different shops and businesses as well as 20 various restaurants, explained the project, convinced them to cooperate, and received their financial assistance to make the map.
This time, with a grant from Chikuma City and translating help from one of the staff at Hotel Marusansou, we now have a (simplified) Chinese version.
To be honest, our town does not have many guests from mainland China so I am not sure how useful the map will be. However, I hope to run it by the prefecture's Tourism Association as well as to the contacts I made in Beijing from the conference I went to there last December.
In conjunction with the Chinese map, both it and the original English one have been uploaded to the internet on the Chikuma City Tourism Assoc. website.
戸倉上山田温泉の散歩地図・グルメガイド英語版と中国版
Onsen Town Togura-Kamiyamada Walking Map and Gourmet Guide, English and Chinese (simplified)
户仓上山田饮食地图+散步地图