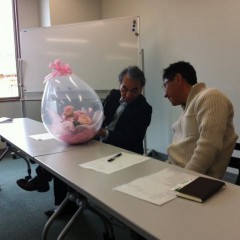 戸倉上山田の町興しの為の「カラコロにぎわい協議会」で今、新しい計画は2つが企画中です。
「戸倉上山田カタログ」
この戸倉上山田で沢山の職人がいます。陶芸やバルーンフラワーから味噌や甘露煮、蕎麦の麺まで誇りを持って造っている商品が多いです。その商品をお越しになるお客様に提供出来る様に通販様なカタログを作ろうと言う案を出しました。カラコロの「物作り部会」でカタログを実現できるように準備しています。この間はりんごの農家、ステインドグラスの作家、花屋さん、お茶屋さん、蕎麦の麺や和菓子屋さんなどが集まって、話し合いました。
「スポーツクラブ提供」
戸倉上山田温泉から車や自転車で5分にSEAVASというスポーツクラブがあります。カラコロの「創造企画部会」が施設見学を兼ねてSEAVASで集まりました。温泉にお泊りになると、観光で普段に使わない筋肉を使ったり、いつもと違う空気を吸ったり、グルメな会席料理を食べたり、温泉で体をリラックスさせたり、とにかくヘルシーです。そのついでにプールやジムで体を動かすのがぴったし合うのです。これからは両館が利用券を安く提供できるようにテスト的に行います。
温泉+特産品  温泉+運動  
このように新しい計画は企画中名戸倉上山田温泉です。
Togura Kamiyamada's civic improvement organization, "Kara-Koro" is working on 2 new projects:
Togura-Kamiyamada Catalog
There are so many great local businesses making such fantastic products, that I thought it would be a good idea to create a catalog featuring some of them so that guests to our onsen can purchase them. Everything from balloon flowers and pottery to miso and soba noodles.
The other day, our committee met with the flower guy, an apple orchardist, a stained glass artist, the tea man, and the soba maker. We discussed ways to make the catalog come together.
Sports Club Connection
5 minutes by car or bike from our onsen town Togura-Kamiyaada is the SEAVAS Sports Club. Our committee met at the club to see what type of facilities they have and to discuss ways to offer day passes to the club to guests of the ryokans.
Often times taking a trip to an onsen ryokan involves sightseeing, hence using muscles one isn't accustomed to using, breathing a different type of air, eating gourmet meals, and relaxing in an onsen bath. In other words, it's a healthy experience. Working out at a gym or swimming in a pool can help to enhance that overall healthy effect. That's why tying in with SEAVAS would be perfect.
Onsen + Specialty Goods; Onsen + Fitness
Those are the new projects Kara-Koro is working on.