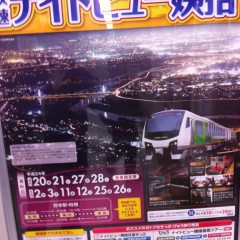 「ナイトビュー姨捨」というJR特別電車の企画は4月20日(金)から始まります。
長野駅発は18:48、姨捨着が19:33.
姨捨駅でボランティアガイドの楽知会と語り部の1000曲森の会というエンターテインメントがある。
帰りは姨捨発20:24、長野着20:59.
電車はハイブリッドの「リゾートビューふるさと」。
JR長野の代表なイベントなので、
JRで働いている友人のOさんに声かけられました「せっかくのイベントだから、姨捨の駅舎を掃除しましょう」と。
従って、二男を連れて、ボランティアで駅の窓拭きに手伝ってきました。
ナイトビューのお客様の為のちょっとしたおもてなし。
運転日は と 亀清旅館の空状況
4月20日(金) 空き室 X
4月21日(土) 空き室 △
4月27日(金) 空き室 〇
4月28日(土) 空き室 △
5月2日(水) 空き室 〇
5月3日(木) 空き室 △
5月11日(金) 空き室 △
5月12日(土) 空き室 △
5月25日(金) 空き室 △
5月26日(土) 空き室 〇
ナイトビューを楽しんでからの宿泊は、是非亀清旅館へどうぞ。送迎は喜んで手配いたします。
JR Nagano is scheduled to run a special "Night View Obasute" train starting 20-April.
The train will depart Nagano Station at 18:48 and arrive Obasute Station at 19:33.
Entertainment will be offered at Obasute Station by the Rakuchikai volunteer guides and a group that specializes in telling folk tales.
The return train departs Obasute at 20:24, and arrives Nagano 20:59.
This is JR Nagano's biggest event. One of my buddies that works at JR, O-san, contacted me to help spruce up Obasute Station in advance of the event. So I brought one of our sons, and we volunteered and helped clean the station's windows.
Hopefully all the guests coming for the special train will enjoy Obasute Station.