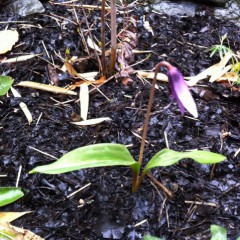 戸倉上山田温泉のカタクリ祭が今週の土曜日、4月14日、10:00〜15:00。場所は佐良志奈神社です。
亀青旅館の新しい貸切露天風呂の庭にも咲いています。
Japan seems to have a fascination with delicate flowers. Cherry blossoms are of course the most obvious, but, for example, this has to be the only country on earth to organize festivals dedicated to skunk cabbage (see Kinasa, Togakushi, et al). I admire this appreciation for Mother Nature.
Here in our onsen town Togura-Kamiyamada, I've mentioned in the past how a grove of tiny setsubun-sou flowers has a group of volunteers dedicated to its preservation and that a festival is held in their honor.
On our side of the Chikuma River is a grouping of another fragile flower, "Katakuri-sou", known in English as dogtooth violet. Grouped around a road leading up Hachioji Hill from Sarashina Shrine, these flowers also have a fan club that volunteers for their care. This Saturday is the official "Katakuri Festival". Just a small little festival with the ladies serving green tea, all in honor of the little purple flowers.
Our new private bath here at Kamesei Ryokan also has some katakuri flowers popping their heads up in the garden Okada-san built for us last fall. So if you can't make it to Sarashina Shrine for the katakuri festival, come for a soak in our Shinano-buro bath. You can enjoy seeing the flowers as you relax in our onsen.