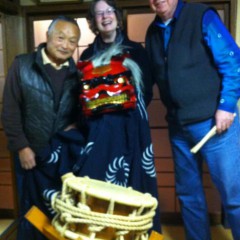 自分の話になってしまいますが、私が長野に引っ越ししてきてから一番「家族」の様になったのは上山田神楽保存会の皆さん。週一のミーティング・練習と月1~2回の獅子舞のお蔭で、皆といい仲間になりました。結婚式やらお葬式など、一緒に過ごしています。
という事で、今回に私の親がシアトルから遊びに来ている時、お神楽の皆と合わせるのは楽しみにしていました。この間の練習でうまく合わせたので皆がゆっくりと色んなお話が出来た。会えるのは5年ぶりだったけど、お神楽のメンバーは少し変わったけど、相変わらず仲良く盛り上がりました。
私の本来の家族と、長野の第2家族。合わせれてうれしい。
This is just a personal story, but ever since moving to Nagano the local Okagura lion dance troupe has really taken me under their wings. Through our weekly practices, and 1-2 times a month performances, I have developed a close relationship with the members. I've celebrated weddings, cried at funerals, imbibed a bit of sake, and more with these guys. They've become my family away from home here.
So with my real family (mom and dad) here visiting from Seattle, I had been looking forward to putting the together. This week's practice night, my dream was finally realized. There are a few new Okagura members now, but everyone got along just like last time they were together 5 years ago.
My real family, and my 2nd "Nagano" family, together again.