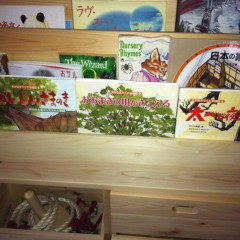 亀清旅館のロビーに出来たキッズコーナーに長野パイン材のおもちゃ以外に、「気を伝えてくれる物語」という長野の絵本シリーズは3部を置きました。
緑で恵まれている長野からこそ生まれた絵本です。その自然が教えてくれるストーリーの本。村のおじさんが語っているような文章。「太一は松の所へ行ってな 焼けた幹にそおと触ってみたんじゃ」の様な書き方。私は大好き!子供に読むのに楽しそう。
取り敢えず、「気が伝える物語シリーズ」で揃った3部は:
「太一と夜泣き松」 大鹿村
「おおまきの唄がきこえる」 阿智村
「うえんじいさまのき」 塩尻市贄川地区
どうぞ、お子さん達と一緒にお読みください。
For Kamesei Ryokan's new Kids Corner in the lobby, besides a collection of wooden toys we also have some new childrens books. The 3 books are from a series sponsored by a Nagano nature conservation group and they are stories about various landmark trees in the prefecture.
The "Ki ga Tsutaete kureru Monogatari" (roughly tranlated means "stories conveyed by trees") series is dedicated to raising awareness in children about the importance of trees. They are written in a very approachable style of an old man from a country village telling a tale. I love the easy-going nature of the prose.
The three books we have collected are:
"Taiichi to Yonaki Matsu" (Taiichi and the Pine Tree that Cries at Night), set in Oshika Village
"Oomaki no Uta ga Kikoeru" (Listen to the song of the Oomaki", set in Achi Village
"Uenjisama no Ki" (Master Uenji's Tree), about a horse chestnut tree in Shiojiri City.
Come and have a read with your kids!