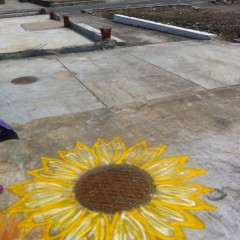 「見に来てほしい」
東北の知り合いに言われました。3.11の地震と津波、その後の原発問題。いくらテレビで画像を見ても、現地を自分の目で見た方が重要だと。100年(1000年?)に一度の自然の現象で自分及び子供達の目で見た方が良いと。
人の苦しみを見て良いかどうかの不安を置いておいて、今回の東北旅で「津波の跡見学」を目的の一つにしました。
ハワイアンズにお世話になってから小名浜、いわき市の港へ行ってみました。
まずは魚市場ラ・ラ・ミュウに入りました。何もなかったと思われるぐらいに回りが片づけられたが、地震から15分後に2mの波が市場を被されましたそうです。1回の売り場のダルビッシュにそっくりのお兄さんとの仲間の笑顔は忘れられません。原発から100km距離の漁業禁止ゾーンだが、他所からの魚を下ろして、負けないで元気で販売していました。「応援で何か買いたい」と言ったら「すぐに家に帰れば良いけど、そうじゃないでしょう?無理にしないで」と、優しい心。
ラ・ラ・ミュウの2階に避難所の資料展示があった。辛い思い出だ。観覧船は4月下旬から復活の様で、取り敢えずは案内の人の指導で車で移動して、塩屋崎灯台の北側にあった町へ行きました。写真の様に、建物の基礎しか残っていません。
基礎しか…
「見に来てほしい」とは、こういう所。テレビじゃ…
その後、行き会った人の紹介でお寿司屋さん「ともえ」でお昼を食べた。どこかの食事会の為に立派な船盛りを作っている最中だったマスターとの奥さんは親切に美味しいお料理を下さりました。「100km禁止ゾーンのせいで寿司屋は苦しいけど、頑張っています」と。
「見に来てほしい」とは、これだね。
"We want you to come and see."
That's what one of my ryokan association colleagues from Tohoku (northeastern Japan) told me about the aftermath of the March 11th and following triple disaster. It's one thing to see images of the destruction on TV, but it's important to see it personally with your own eyes. The earthquake and tsunami were once-in-a-100 (1000?) years demonstration of the power of nature.
So putting aside my concerns about possibly being inconsiderate to the people there who suffered so much, on this trip to Fukushima I made it one of my goals to see the tsunami area and show it to our kids.
After leaving the Hawaiians Resort, we drove down to Onahama, Iwaki City's main port. The seafood market Ra Ra Myu had been restored to the point that you wouldn't think anything had taken place here. But 15 minutes after the earthquake, the market was inundated with a 2-meter wave. I will never forget the smiles of the the Darvish-look-alike fishmonger and his coworkers. "Our port's fishing ships can't work these waters due to the 100-km exclusion zone around the nuclear plant. But we get in fish from all over the world," they said as they carried on business as usual. When I mentioned I wanted to buy something to help support them, they said, "If you're headed straight back home, that would be great. But your travelling, so don't worry about it." I was touched by their generosity.
Ra-Ra's 2nd floor had a display depicting living conditions in the evacuation centers. That was tough to take in. The center's pleasure boat rides wouldn't start operating until late April, so on the advice of the info center we drove up the coast to the village that had been below the Shioyazaki Lighthouse.
As you can see in the picture, the village has been reduced to just the foundations of the buildings that had been there before the tsunami struck.
"We want you to come and see." This is what she had been talking about.
Later, we drove to a sushi shop, Tomoe, that a passerby had introduced us to. The sushi master was just finishing up a massive "funa-mori" sushi platter for some banquet nearby, but he and his wife kindly served us delictable sushi. "It's hard as a sushi chef to have to acquire fish from outside the 100-km zone." But by the looks of it, his business is still thriving.
"We want you to come and see." This is it, too.