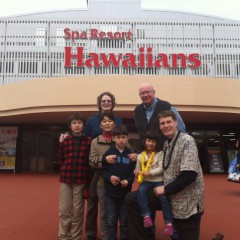 2011.3.11は世界を変わった日でした。地震、津波、そして原発問題。「福島」は新たな意味になりました。
原発などのせいで亀清旅館までキャンセルの津波が激しかった。3月中旬・下旬及び4月上旬は我が宿が本当に静かでした。
逆に、津波などのお蔭で夏は記録的でした。皆さんの遊びは海から山へシフト;節電でなお蒸し暑い東京から割りと涼しい長野へシフト。
亀清旅館の8月売り上げは最高でした。
しかし、福島は静かのままだったようです。
恩返しを込めて、この春は家族の春休みで福島へお出かけしました。シアトルから来ているママとパパも連れて、親孝行を兼ねて。
一泊目はHawaiiansでした。キャンセル待ちで予約はぎりぎり取れたぐらい賑やかでした。伝説のフラガールは直接見れて、感動しました。
「元気」をお伝えしたいと思ったら、逆に「がんばっぺ福島」から「元気」を頂いてしまいました。
2011.3.11 is a day that changed the world. The earthquake, tsunami and nuclear radiation problem made "Fukushima" a household name everywhere.
Due to "Fukushima", even here at Kamesei Ryokan we had a tsunami of cancelations. Mid and late March as well as early April were extremely quiet here at our inn.
On the other hand, thanks to "Fukushima", we had a record August. Travellers in Japan avoided the ocean and came up to Nagano and its mountains instead.
Fukushima meanwhile continued to be quiet.
I felt indebted to Fukushima, so for this spring, our family decided to spend the holiday in Fukushima. Since my parents are here visiting from the States, we took them, too.
For our first night, we stayed at the famed Hawaiians Resort in Iwakuni. It was only due to a cancelation that we were able to get a booking — it turns out the resort is back to being in full swing. And seeing the famed Hula Girls live was amazing.
We had intended to give Fukushima a boost of energy by visiting, but ended up on the receiving end instead.
スパリゾートハワイアンズ Spa Resort Hawaiians