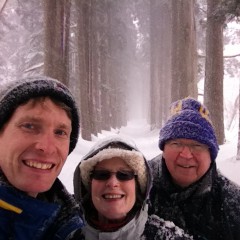 善光寺さんの上の戸隠はこの頃ブームになっています。奥社の杉並び木が「パワースポット」として知られてきて、日本国内では大人気です。
その自然の力は海外からお越しになる方にも通じます。
今は私の親だ長野に遊びに来てくれています。先日は戸隠に連れて行きました。その日は大雪でした;びしょびしょになって、大分冷えたが、それでも見る価値はありました。
日本の皆様に羨ましい。雪の日じゃなくても、飛行機に乗らなくても、親を連れていつでも戸隠へ行く事は出来ます。
戸隠で親孝行。
忘れられません。
Above Zenkoji Temple is mountain area called Togakushi. It is in the midst of a popularity boom right now with everyone in Japan for its spirituality. The way to the Inner Shrine is lined by massive cedar trees, trees that give off a strong sense of the power of nature. I like to tell people in Japan that foreigners have no problem feeling that power, too.
My parents are here visiting Nagano, so I took them up to Togakushi for the walk to see (and feel) the cedar trees. Somehow we timed it for a snow storm. But despite the snow and wind, coldness and dampness, we made it to the trees and were able to experience their awesome power.
I am so jealous of everyone here in Japan. They can go take their parents to Togakushi any time, without running into a snow storm, without even having to take an airplane.
Filial Piety, Togakushi style.
I will never forget it.