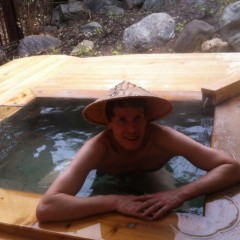 2012年の「牛に引かれて善光寺」ウォーキングは5月6日(日)に行う予定です。私ども戸倉上山田旅館青年部が毎年に開催している人気イベントです。温泉から善光寺まで30kmのコースです。
毎年、信州毎日新聞に戸倉上山田温泉全体が広告を出します。亀清旅館の分の写真を改めて撮りました。新しく出来た貸切露天風呂「しなの風呂」と「牛に引かれて善光寺」のウォーキングでかぶる笠の写真です。歩いてから、新しいお風呂へどうぞ、とのテーマ。
今年こそ、ご一緒に歩きませんか?
Every year, the Togura Kamiyamada Ryokan Junior Association puts on a walking event from our onsen town to Zenkoji Temple, in honor of the "Pulled by an Ox to Zenkoji" legend. For 2012, the event will be held on Sunday 06-May.
As part of the event, all of the inns here place an ad in our local Shinmai newspaper. We took a new photograph for Kamesei's portion for this year. Pictured is our new "Shinano-buro" family bath, as well as the straw 'kasa' hat all the event participants wear.
Won't you come join us for this year's walk?
詳しくは千曲市観光協会にてDetails at the Chikuma City Tourism Assoc. site