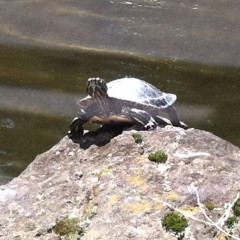 亀清旅館の看板動物、うちの中庭の亀さんが冬眠から起きてきました。池の側の庭に上って、甲羅干ししている姿を今年、初めて見ました。
亀さん、久しぶりです。
温かくなってきて、春はそろそろ来るとの事でしょうか?
Kamesei Ryokan's name roughly translates to "Holy Turtle". Hence, we consider the turtle living in the koi pond in our naka-niwa central garden our namesake animal. Today, I spotted him sunning himself on a rock next to the pond. This is the first time this year — he's been in hibernation all winter.
Nice to see you again, Mr. Turtle.
With the temperatures starting to warm up, and now our turtle starting to make an appear...
もっと読む