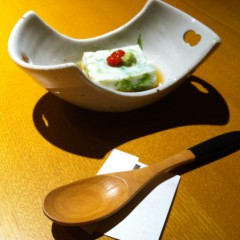 東京にてのキャラバンの一時:
東京駅からS社へ行くのに「八重地下」ショッピング街を通りました。
地下のショッピング街。
距離は分からなかったけど1km近くあったのではないか。
方向も分からず、信号がないから何ブロック歩いたかも分からない。
モグラもこんな感覚なのかなと思った。
やっと外に出て、O.雑誌の編集さん達と打ち合わせしてもう一度地下に入りました。しかし、今回は混んでいるショッピング街ではなくて「旬味」というお洒落なレストラン。
間接照明、
スタッフの深いおじぎ、
とにかくキャラバンの走りから離れて、ゆっくりで美味しくて食事をとれました。
こういう為に日本に来ました。
On this recent marketing "caravan" trip to Tokyo, I had the following experience.
Our group walked from Tokyo Station to the office of Oz magazine. Instead of walking the surface streets, we went through the "Yaechika" underground shopping mall. Being that it was underground, there was no sense of direction or distance — just a kilometer or so of shop after shop and endless side passages.
I got the sensation that this is what moles must feel like.
After popping back up and visiting the magazine's editors, we went back underground again. But this time not to another crazy shopping center, but to a restaurant. A quiet, classy restaurant. With soft lighting and deep bows by the staff. A place for a moment to get away from the frenzied pace of the marketing tour.
It is for moments like this that I came to Japan.