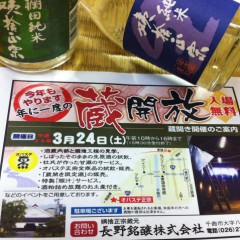 戸倉上山田温泉・千曲市の代表の酒蔵「姨捨正宗」は今年にまた蔵開きを開催する予定です。2012年度のは3月24日(土)10:00‐16:00で行う予定です。
歴史的な酒蔵の見学も出来、搾りたて日本酒の試飲、甘酒や豚汁サービスなど、あります。入場は無料です。
私にとっては一番魅力的なのは普段見れない酒蔵の中を見れる事。姨捨正宗は善光寺街道沿いにあって、歴史的な建物です。土壁の蔵、昔ながらの屋根瓦、300以上前の松の木、趣のある場所です。
この蔵開きは中を見るいい機会です。
The main local sake brewery for our onsen town Togura-Kamiyamada is Obasute Masamune in Chikuma City's Yawata district. Once a year they open the brewery up for tours, and for 2012 the "Open Brewery Day" will be Saturday 24-March. Tours will take place from 10am to 4pm.
Besides being able to see the inside of the brewery, guests will also be treated to sample tastings as well as free amazake (sweet sake) and tonjiru (pork soup).
Located on the old Zenkoji Kaido road between Matsumoto and Nagano City, the Obasute Masamune brewery is rich in historical architecture. The thick earthen-walled storehouses with their distinctive curved kawara tile-clad roof are remnants of a time long gone by. There is even a 300+ year old Japanese pine tree in their garden.
The Obasute Masamune Open-Brewery Day is an excellent opportunity to tour this historical brewery.
姨捨正宗Obasute Masamune
以前に見学した時からの写真Pictures from when I toured the brewery before.