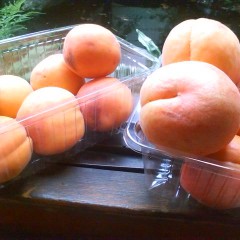 千曲市の森地区は「杏の里」として知られていて、毎年は4月に杏の花で盛り上がります。今になると、実がもうなっていて、美味しく頂いています。たった2ヵ月半で実ができる・・・早い!
(ちなみに、私は甘酸っぱい古い種類の方が好きです。)
杏の花か果実、どちらが嬉しいですか?
Chikuma City's Mori district is famous for its "Anzu no Sato" apricot blossoms in early April. Now, those same trees are full of delicious, juicy fruit. It's amazing to think that the trees can go from blossoms to ripe fruit in just 2-1/2 months!
If you come to Mori to pick apricots, I suggest the classic heritage varieties — I like their tart flavor.
So, which do you like better, apricot ...
もっと読む