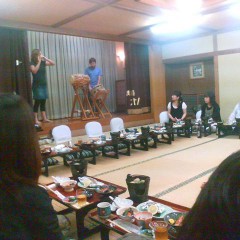 「旅の思い出」と言うのは、自分から見付けるってより、自分を見付かる場合があるのではないでしょうか?
亀清旅館では、お越しになるお客様になるべく何かプラスアルファのサービスを提供して、お客様に良い思い出になること、目指しています。駅からの送迎の途中で景色のスポットを寄るとか、子供連れのお客様にアメリカ風のアイスクリームのデザートを上げるとか。
昨日はそのつもりで、オーストラリアからの2人に私のお神楽の練習に誘ってみました。この日本の田舎のお神楽保存会の伝統的な獅子舞を見せたら、ちょっとしたサープライスで喜んでくれるかなと;良い思い出になるかなと思いました。
そして、逆に、私が驚きました。2人にとってはもちろん、良い思いでになりましたが、私やお神楽の皆にとっては凄い出会いでした。
誘った時に、彼女が「あっ、楽しそう。私はオーストラリアで和太鼓をやっている」と。そして、更に、お神楽の皆と話したら、「実は、元々はフルートだったので、時々横笛も吹く」と。そして、彼がロックのバンドのドラマーと言う事も分かった。
お神楽の皆が「じゃ、せっかくだから、その和太鼓を見せてください」と。
我々は「太鼓=男の世界」つまり、テストステロン的なイメージが強かった。Jenさんはメルボルンで女性4人の和太鼓グループに入っていて、「女太鼓」が得意。とっても美しい動きで、我々お神楽の皆が凄く感動した。
こんど、Richardさんがその和太鼓でドラミングをしてくれた。思い切りフュージョンだけど、格好良かった。
最後はJenさんが獅子笛を吹いてくれました。私達は週一のペースで、中に何十年やっているメンバーもいる.その私達はJenさんの笛を聞いて、恥ずかしかった。彼女は本当に素晴らしかった。フルートのバックグラウンドのお蔭で、私たちが出来ない音を出していました。感動でした。
JenさんとRichardさんがもう一泊しました。今晩は近所の女性の宴会があったので、せっかくだったから2人に宴会のエンタテインメントとして演奏してくれました。皆さんがお互いに喜びました。
お客さんにいい思い出を提供しょうとしたら、逆にこちらまで素晴らしい思い出になりました。とっても良い出会いでした。
When travelling, often times you don't find a memorable experience, it finds you.
For us here at Kamesei Ryokan, we look at our role as being the ones to provide good experiences for our guests. In that regard, we often stop by a view point on the way back from picking up a guest at the station, or make an American-style banana split sundae for a cute kid, or any number of little surprises for our guests.
It was in that vein that I offered to take 2 guests from Australia last night to my shishi lion dance practice. I thought they'd enjoy seeing how tradition and culture work here in the Japanese countryside.
I'd say Jen and Richard enjoyed the little surprise, but myself and the other Okagura lion dance guys ended up being even more surprised.
When I mentioned the practice, Jen said, "That sounds fun — I actually do taiko back in Melbourne." Then as they and the Okagura people got to talking, we found out that Richard is a drummer for a rock band. And that Jen was trained on a flute.
So of course, we asked them to perform. Jen did the taiko first. Up until then, we had basically thought of taiko as being a guy's world, full of testosterone. But it turns out Jen is part of a 4 person ladies taiko group and her performance was striking for the elegance of her movements. We were all very impressed.
Then Richard took over the taiko drums and did a fast and furious Western-style drum jam on the Japanese taiko drums for us. Definitely fusion. We loved it!
Finally, we asked Jen to do the shishi-bue flute. Now, the other Okagura members and I practice basically once a week, with some of us doing it for decades. We were truly embarrassed by her skill. Her flute background meant she did some trills with the yoko-bue that we had never heard before. We were floored.
That was last night. Tonight, Kamesei hosted a group of ladies from the area. We talked it over with Jen and Richard, and ended up having them provide a little impromptu entertainment for at the banquet.
In our effort to provide a little surprise for two guests from Australia, we ended up being pleasantly surprised ourselves!