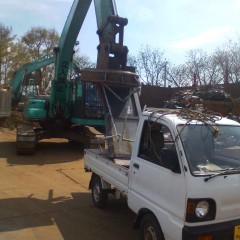 亀清の親戚がメタル・リサイクル屋さんです。今日は亀清のKトラを積んで、溜まったメタルを持って行ってみました。又面白い世界ですね。まず、鉄じゃないの手で選別して、そして鉄をこのパワーマグネットで全部を引っ張った。始めてみました!Kトラまで持ち上がれちゃう心配しました。
その後はその親戚と小諸でコーヒーを飲みに行きました。私がシアトルから来た割にCappuchinoを始めて飲みました。軽井沢周辺に個性のある喫茶店やコーヒーショップが多いです。今日に行ったお店は浅間山の噴火を眺めながら、コーヒーをゆっくり飲めました。
メタルリサイクルと軽井沢コーヒー、長野らしい(?)組み合わせ。
Today I experienced the scrap metal universe for the first time. One of Kamesei's relatives works for a metal recycler, so I piled up our "K-tru" pick-up with all the various metals that we'd accumulated here, and drove out to Isao-san's work site. First we picked out the non-iron stuff by hand, then they used this huge power magnet to pick up all the iron. I was worried my little pick-up would be lifted up, too!
After that, Isao-san took me for coffee. The Karuizawa area is fortunate to have lots of cool little coffee shops and "kissaten" tea shops. The one we went to featured a nice view of Mount Asama. We could sip our cappuchino while watching the plume of ash rise from the mountain.
Metal scrapping and Karuizawa coffee — only in Nagano!