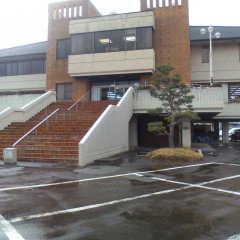 来月のイースターのイベントの打ち合わせの為に千曲市の役場に行きました。そうすると、雰囲気はがいつもと違いました。役場で働いている知り合いに聞いたら、皆の来年度(=来週)の仕事場変更が発表されたばかりだったそうです。6割は残職。。。ということは4割も変職?!?町興しで盛り上がっている旅館組合の担当、観光課係長、も変わるそうです。せっかく今の係長がこれだけ前向きになってくれたのに!
こういうシステム、公務員の皆を2,3年毎に変職、のメリット・デメリット効果は図れる事があるでしょうか?私が思いますが、メリット(役員は色んな部門を幅広く経験できる事と、1つな部門に馴染み過ぎて、怪しい関係を防ぐ事)がデメリット(今回は良い例:観光の経験のまったくない人が我々の観光課係りが仕事に慣れるまで時間がかかっちゃう事)に負けるような気がします。
アメリカで同じ公務員が同じ仕事を何十年間続いてやっていル人が多くて、そういう経験深いベテランと怪しい事は絶対無理だった。
役場の知り合いに冗談で「じゃ、新しい係長をトレーニングしなくっちゃ」と言ったら、「そう。トレーニングしといて下さい」と言われました。やっぱり、皆はそう思うんだ。
This morning I had to stop at City Hall to file some paperwork for next month's Easter Egg Festival. The mood at City Hall seemed a little odd. I spotted an acquaintance that works there, and he told me the reason: everyone's jobs for the next fiscal year (= next week) had just been announced. 60% of the staff would be keeping their same jobs — that means 40% of the people would be working in new positions. 40%?!?! That's a lot of people having to re-train for new positions.
Our contact at the Tourism Department is apparently scheduled to be changed, too. This is really unfortunate, as the current official has been proactive in helping our ryokan association's civic improvement efforts.
I wonder if this system of mandatory job switching every 2~3 years has ever gone through a cost/benefit analysis. I understand the benefits (public workers get a broader field of experience, and they don't get too familiar with any one spot which could lead to disreputable actions). However, the costs, like our new Tourism official having to learn a new position from scratch, seem to outweigh any benefits. Back in the States, I'm used to having government officials be in their positions for decades — they were so knowledgeable and experienced, you couldn't get away with anything with them.
I joked with my acquaintance that now us ryokan people were going to have to "train" the new guy, and he replied, "Yes, train him well!" So even people within the system know its weaknesses.