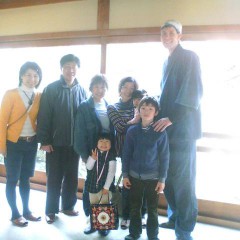 今は卒業の時期ですね。小学校や、大学など、毎日の様にどこかの学校の卒業式が行われているようです。我がKenちゃんの卒園式だって今日でした。
そして、学校だけじゃないです。夕べに泊まった奈倉さんは65歳で定年退職という事で、お仕事を卒業しました。羨ましいですね!毎日は好きな事ができる。本人も、バード‐ウオッチングや絵描き、温泉(亀清?!)など、沢山の趣味があるそうです。まあ、おめでとうございます!
In Japan, March is graduation season. It seems like every day, some local school or university is having a graduation ceremony. Even our son Kenny's preschool graduation party was this morning.
But it's not just graduation from schools. Like our guest from last night, Nagura-san, there are some people retiring from their jobs as well. Nagura-san turned 65, and is graduating from work. He says from now on his biggest difficulty will be to wake up in the morning and decide which of his many hobbies (bird watching, painting, onsens — Kamesei, of course!) he will do that day. Well, we congratulate him and all other work graduates!

戸倉上山田温泉の亀清旅館のHPはこちらClick here for the website of Kamesei Ryokan in Nagano.