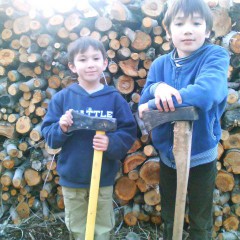 来冬の為の薪は大分集まりました。春休みとなった息子達に手伝ってもらった。(かわいそうかな?)地元のりんご農園の剪定物を頂いて、チェインソーで細かく切って、Kトラーで運んで、太いのを斧で割って、そしてこうやって綺麗に積む。作業が終われば、温泉にゆっくり入る。これは私の最近の日々の生活です。大変だけど、このお蔭でりんご農園屋さんたちと交流も出来、信州の自然と触れ合える。他の生活と変えたいと思わない。
ちなみに、りんご農園の方と話したら、この冬が暖かくて、雪が少なかった事、りんごの木にどういう影響かと聞いた。花の咲くのが早いかと。普段は低い温度から暖かくなる時に咲くので、温度が低くない時に咲くのが遅れる場合もあるから今年は全然読めないと言われました。通常より早いかもしれないし、遅いかもしれない。農協も予想を立てていないそうです。
この暖かい冬はやはり地球温暖化の影響?
I've made good progress on gathering up firewood for next winter. Our boys' spring vacation started today, so I got them to help out, too. (Otherwise, they'd be indoor playing Wii!) Driving to the apple orchards, cutting the branches into short sections with a chainsaw, loading the "K-Tru" pick-up, dumping the load at Kamesei, chopping the fat ones with an axe, and stacking wood nice and neat — it's a lot of work! But you know what? It's a great chance to interact with the apple growers, as well as with Nagano's nature. I wouldn't change this life for anything.
By the way, I asked the apple grower how this season is shaping up, with the winter being so warm and so little snow. Would the blossoms come early? The grower told me in years like this, they may actually bloom late due to a lack of a cold snap. Low temperatures set up the trees for blooming. He said even the ag coop wasn't making any predictions for this year — the blossoms could be really early, or really late.
Another result of global warming?