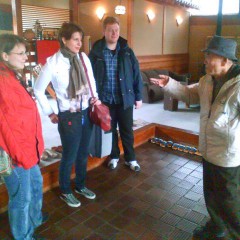 ドイツからFischerさん達と地元のお客さんが亀清のロビーでドイツのパンの話で盛り上がりました。井上さん達のメンバーでパン屋さんをやっていて、フランクフルトで研修したそうです。偶然で3人は同じフランクフルトから来ていました。日本人はドイツを憧れているようです。
亀清旅館はせっかくこの青い目の若旦那がいるので海外からのお客様は時々来てくれる。この伝統的な温泉旅館を楽しんで頂いて、そして日本人のお客さんも良い交流が出来ています。
This morning, when the Fischer party checked out, they came across the Inoue party of I-go playing gentlemen. One of them is a baker who studied in Frankfurt. By coincidence, the Fischer's were from Frankfurt. So a very enthusiastic conversation took place. I was impressed by how highly Japanese people regard Germany.
With me being an American innkeeper, we get guests from overseas from time to time. They tend to enjoy staying at a traditional ryokan. Japanese guests also appreciate the opportunity to talk with foreign travellers.