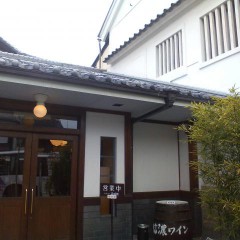 善光寺さんに挨拶しに言ったついでに、山門の手前の五明館という歴史のあるレストランで昼食を食べました。以前から気になっていました。物凄く味のある外観の建物です。そして、入口の上をよく見れば、1776って書いてありました。私の国、米国、と同じ生まれ!感動しました!
お店の社長もなんとなく格好良いし、中の雰囲気も渋いし、お料理もお洒落し、地ビールもあったし(飲みたかったな!)。善光寺参りでお蕎麦屋さんも良いけど、歴史的の五明館もいいです。
ちなみに、善光寺での挨拶は、今年の「牛に引かれて善光寺」の30km歩きのイベントにて、私が実行委員の福員長となります。ことのイベントは5月6日(水)です。ご一緒に参加してみませんか?
After an appointment with the monks at Zenkoji, I had lunch at a historical restaurant just outside of the Sanmon gate. The restaurant is called Gomyoukan, and apparently originally provided lodging for travellers to the temple. The place had caught my eye before, with its classic exterior, full of character. Today, upon entering, I looked up and noticed "1776" written above the main door. This restaurant's history is as long as that of my country, the United States! The owner was cool, the interior was cool, the food preparation was cool, and they even had a cool microbrew. (Oh how I wish I could have had one!)
I would say Gomyoukan is a cool alternative to all of the soba shops around Zenkoji.
By the way, the reason I had to go to Zenkoji was I am on the planning committee for this year's "Pulled by an Ox to Zenkoji" walk, our annual event involving a 30km walk from Togura Kamiyamada Onsen to Zenkoji. This year it will take place on 06-May (Wed.) Care to join?