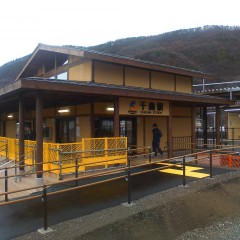 誕生日、おめでとうございます、「千曲」駅。しなの鉄道の戸倉と屋代の間に出来た千曲駅は今日からオープンになりました。木造造りの駅建物がぴかぴかです。千曲市はやっと看板(?)の駅が出来ました。
私が顔を出してみたら、やはり他の鉄道マニアの人達もいました。どんな重要性があるか分かりませんが、取り敢えず、3月20日からキグレサーカス長野公演「善光寺御開帳記念」が約2ヶ月間行いますのでこの新しい千曲駅からサーカスのテントまで歩いていけるそうです。
Do people sing "Happy Birthday" when a new station opens up? I'm not sure, but seeing the brand new wooden station house at Chikuma Station, which opens for business today, put me in the mood for singing. Chikuma Station is in between Togura and Yashiro on the local Shinano Railway line. I stopped by today to see what it looks like, and there were some other railroad fans there, too, taking pictures.
I'm not sure how much this new station will be used, but starting 20-March the New Kigure Circus opens there tent for a 2 month run within walking distance from the station. If you get a chance, check it out!
戸倉上山田温泉の亀清旅館のHPはこちらClick here for the website of Kamesei Ryokan in Nagano.
しなの鉄道のHPはこちらClick here for Shinano Railway's website.