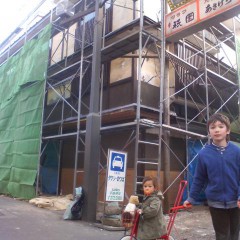 日本中の市町村は「町興し」を良く話します。話すだけではなく、実際動くのはなかなか難しいです。行政はやる気があるかどうかはとに書くとして、予算がない。民間の皆はやる気があるけど、メインの仕事もあるから時間がない;お金がもっとないという現状です。
その難しい状態の中で、この戸倉上山田温泉は去年の10月に足湯が出来て、沢山の体験コースがそろえて、そして本通の中心な場所にあるこの建物の様子は感動的です。「今、工事現場じゃないか」と思われるかもしれませんが、それがポイントです。工事しているのです。大正時代の建物の顔を改造している作業です。亀清旅館のヒバの露天風呂の周りを手伝ってくれた村越さんが大工の仕事をしています。県と市と民間がお金を出し合って、旅館の先輩方がコネを使って、その全部を上手く結びました。先輩達の管理、皆の出し合ったお金、そして地元の大工さんの才能、皆の努力のお蔭です。自慢できる和風外観になりそうです。窓に格子、壁にしっくい、日本の伝統的な造りです。ひょっとしたら、周りの建物の皆が真似して外観を和風に改造したくなるかもしれません。
"Civic Improvement" is a term that gets batted around a lot. But it's a lot easier to talk about than to actually do. Government officials don't have the time or energy, nor the budget. Local individuals may have the energy, but not the time as they have full-time jobs to deal with, and they have even less of a budget. Despite all of these difficulties, Togura Kamiyamada is seeing a renaissance of sorts with the building of a footbath last fall, the creation of all sorts of programs for visitors to participate in, and now, the refurbishing of Sarashina-kan. This historical inn, built in the Taisho era, is getting a full face lift, complete with wood grills over the windows and "shikkui" plaster exterior. Perhaps after it is complete, the neighboring buildings will even consider remodelling their exteriors in a more traditional Japanese fashion.
戸倉上山田の町興し「カラコロ」会のHPはこちらClick here for the Kara Koro civic improvement group's website.