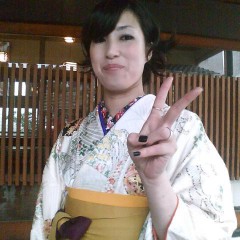 うちの妻の従妹の娘が袴を穿いたままで顔を出してくれた。近くに住んでいるけど、遠い親戚だ。アメリカは大学卒業が大体6月ですが、日本では今が卒業の時期です。一番驚いたのは、Saoriさんの袴の色は私の大学の色:紫と金。格好いい!
ということで、さおりさんと他の卒業生の皆さん、おめでとうございます!これからはスクール・オブ・ライフ(人生学校)でがんばってください。
My wife's cousin's daughter stopped by today. She lives close, but is a distant relative. (Sorry, bad joke.) Anyways, she was wearing a hakama, which until now I had associated with martial arts. Her college graduation celebration was later in the day, and she was dressed up for that. Back in the States, June is when everyone graduates, but here in Japan, it is March. What surprised me the most was the coloring of her hakama: purple and gold. Those are the colors of the University of Washington, my alma mater.