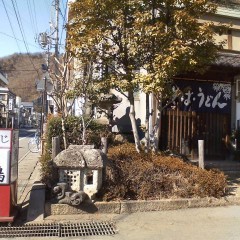 以前に戸倉上山田温泉の「舞鶴」そばとうどん屋さんの事を書きました。今日、また子供たちと一緒に行きました。このお店が好きな理由の1つは息子さんが一緒に商工青年部で頑張っているから。もう1つな理由はそのお父さんが面白いから。今日は舞鶴さんのメニューを英語に直してあげました。私もそばやうどんのことについて知識不足で色々とお聞きしました。そのお父さんが親切に説明してくれました。1つ説明してくれたのはたぬきそばの由来でした:
天ぷらの中の海老や野菜は「た」と呼ぶのですって。たぬきそばは天かすだけ;つまり、たが抜いた天ぷら=たぬき。尚且つ、それを注文したお客さんが天かすを見て、「あっ、海老も野菜もきっと入っている」と思って、食べて食べて、最後まで食べると海老や野菜が出てこなかった。だまされた!狸にだまされたの様に。
なるほど!Andy,Kenちゃん、ちゃんと聞いていましたか?これは日本の文化だよ!
I've written about Maizuru noodle shop here in Togura Kamiyamada Onsen before. The boys and I went there again today for lunch. I like this shop not just because the son is a buddy of mine from the Junior Business association, but his dad is full of interesting stories. Today, while eating, I helped them translate their menu into English. I had to ask lots of questions to get the meaning right. One of the stories the dad told us then was the origin of tanuki soba (soba topped with fried tempura batter). Tanukis are also a mythical animal, sort of a raccoon dog, known for tricking people.
The story goes like this: Usually tempura has shrimp or vegetables inside, which are called "ta". Tanuki simpley has the ta taken out (="nuki"), hence the word tanuki. Another take on it is one person who ordered tanuki soba saw the tempura batter, and thought, "Hmm, there must be yummy shrimp and veggies in here too!" So he ate and ate, but even after reaching the bottom of the bowl, he didn't find any shrimp or vegetables. He'd been tricked!
Andy, Kenny, were you listening to the story? This is Japanese culture at its best!