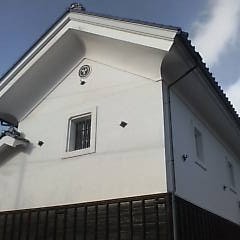 お客様の送迎で篠ノ井でこんなに格好良い蔵を見ました。「この辺でそういう蔵は沢山ある」と言われました。誇りに思っていたようでした。良いですよね。
それと比較したら、篠ノ井の途中で千曲市の稲荷山を通りました。千曲市が「旧街道・蔵の町」稲荷山を宣伝しているけど、土壁の蔵より洋風な住宅の方が多くなっています。久しぶりに通ったらそう思いました。一番写真に出ている通りに工事が行われていました。稲荷山の伝統的な町並みを考えて、造るでしょうか?
私の知り合い、建築家の高村隆徳さんが「稲荷山町並み委員会」と立ち上げようとしています。私もボランティアーで役員になっています。こういう動きが非常に重要ですが、間に合うかどうか心配です。稲荷山の旧街道景色が段々消えています。確かに、土壁の維持が大変;アルミのサイディングをはった方が安く済む。新しい建築は伝統的な和風より洋風が簡単。でも、それで良いのですか?
When I went to Shinonoi to pick up some guests today, I spotted this cool earthen walled storehouse. The locals said there were several such "kura" in their neighborhood. I could detect a sense of pride in that statement.
Contrast that with Inariyama, a neighborhood here in Chikuma City on the way to Shinonoi. Chikuma City bills Inariyama as a classic post town with lots of "kura". Unfortunately, there are more western styled houses than classic storehouses, and the storehouses are disappearing or getting covered in aluminum siding at an increasingly fast pace.
A buddy of mine, architect Takamura-san, is starting up a committee to preserve the traditional look of Inariyama. I've volunteered to be on the committee, as I want to put actions behind my words. I only fear that any actions will be too late.