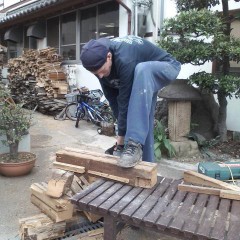 亀清旅館のトイレ改造の工事で出て来た材木はゴミとして処分しないで、ロビーの薪ストーブの為の炊きつけとして使うようにしました。私が全部をこまかく切る作業しました。一日もかかちゃった!まあ、環境にもいいし。
Our bathroom remodel here at Kamesei Ryokan is creating a lot of wood waste. Rather than just dispose of it, I decided to keep it for kindling for the wood burning stove in our lobby. It took an entire day, but I cut it all up and stacked it. Lots of work, but I'm sure the environment appreciates it.
亀清旅館のHPはこちらClick here for Kamesei Ryokan website.

もっと読む