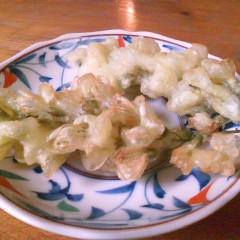 戸倉上山田温泉の真ん中を通る千曲川の周辺にアカシアの木が沢山あります。アカシアの蜂蜜が美味しいと良く聞いていましたので今年は初めてアカシア用のミツバチを見ました。そして、お昼に行ってみたレストランにアカシアの花の天ぷらが出ました。旬のもので感心しました。
Along the Chikuma River which flows through our town of Togura Kamiyamada Onsen are stands of acacia trees. I had heard that acacia honey is very flavorful, and this year for the first time I saw the beekeepers. At a restaurant in town here where I went for lunch, they served us acacia flower tempura. I imagined the trees and the bees as I ate it. Wonderful!
亀清旅館のHPはこちらClick here for Kam...
もっと読む