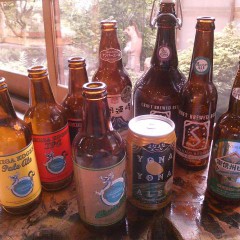 定期的に私がNagaKnowの雑誌の記事を提供しているので次の文のテーマーが長野の地ビールです。記事は出来上がる次第ブログに載せます。取り敢えず、イメージ写真を載せます。
注:亀清旅館ではよなよなエールを扱っていますので地ビールが好きな方にお勧めです。
As a regular contributor to NagaKnow magazine, here's an inside scoop on my next article's topic: Nagano Microbrews. You'll have to wait for the full article, but here's one of the image pictures.
Note: Here at Kamesei Ryokan we offer Yona Yona Ale, highly recommended for those of you who like microbrews.
NagaKnowのHPはこちらClick here for NagaKnow's website.
もっと読む